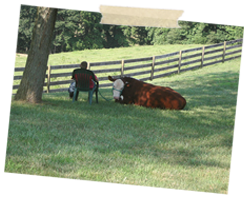 It is our mission to provide our family and consumers with meat that is raised stress free, humanely raised and handled and in environmentally sustainable conditions. By building a direct link with our buyers, and promoting the advantages of buying local, we hope to educate the community that buying fresh and getting to know your farmer and where your food comes from and how it is raised is the best way. Our top priority is stewardship of the land and respect for our livestock for mind, body and spirit. We are proud supporters of Southern Maryland So Good.
We recognize that high quality meat is not a race to the finish line, and we are not selling a commodity product. Instead, we produce quality, and quality takes time, attention, patience, and care. Our beef is Dry-aged for 3 weeks prior to processing.
Our beef is pasture raised, never penned up to be fattened. Typical feed rations include a variety of grasses, grains, as well as natural vitamin and mineral supplements. Our goat's are fed unwanted vegetation. Read the articles about our goats on our goat link.
Where to find our Beef & Goat Meat:
Our goat meat is sold at:
Our farm, Prosperity Acres – 5811 Sunderland Court Sunderland, MD 20689 – WE ARE SOLD OUT OF CUTS OF GOAT.  Live Goats will be available starting in July 2013.
Spider Hall Farm, Rte 231 in Barstow, MD – GOAT SAUSAGE IS AVAILABLE
Our Beef is sold at:
Our farm, Prosperity Acres – 5811 Sunderland Court Sunderland, MD 20689 – BY APPOINTMENT ONLY.  WE ARE SOLD OUT OF BEEF BY THE CUT, WE ARE CURRENTLY SELLING BEEF BY THE SIDE DIRECT FROM THE FARM, call for pricing.
Our Beef is available year round, you never have to wait for our prime beef.