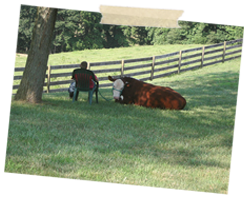 Welcome to the home of the eco-friendly landscapers Green Goats.  Using goats to eat invasive species is the eco-friendly way to go.  Read more about it.
Along with Green Goats we provide family and consumers with meat that is humanely raised and handled and in environmentally sustainable conditions. By building a direct link with our buyers, and promoting the advantages of buying local, we hope to educate the community that buying fresh and getting to know your farmer and were your food comes from and how it is raised is the best way. Our top priority is stewardship of the land and respect for our livestock for mind, body and spirit. We are proud supporters of Southern Maryland So Good.
We recognize that high quality meat is not a race to the finish line, and we are not selling a commodity product. Instead, we produce quality, and quality takes time, attention, patience, and care. Our beef is Dry-aged for 3 weeks prior to processing.
Our beef is pasture raised, never penned up to be fattened. Typical feed rations include a variety of grasses, grains, as well as natural vitamin and mineral supplements. Our goat's are fed unwanted vegetation. Read the articles about our goats on our goat link.
Where to find our Beef & Goat Meat:
Our goat meat is sold at:
Our Beef is sold at:
Our farm, Prosperity Acres – 5811 Sunderland Court Sunderland, MD 20689 – BY APPOINTMENT ONLY.  WE ARE CURRENTLY SELLING BEEF BY THE SIDE DIRECT FROM THE FARM, call for pricing.
Bowie Farmer's Market  8-Noon every Sunday
Severna Park Farmer's Market Ritchie Hwy/Jones Falls Road  8-Noon every Saturday
Our Beef and Goat meat is available year round, you never have to wait for our prime beef.  All meat sales are final, no refund and no returns.  We can not take back perishable items.  All meat sold at the Farmer's Markets are frozen according to Maryland Department of Mental Health and Hygiene.  Please double check your order before you leave.